Build-a-Hand Truck Systems
RWM Casters has tens of thousands of aluminum hand truck components available for direct purchase from our website. While you can find an assortment of popular pre-built configurations in both fixed and convertible styles, you may wish to build a custom hand truck to fit your precise application. This build-a-hand truck option ensures you don't have to compromise on a single element of your order.
Learn more about hand trucks and how to design a custom one to your standards. If you don't see what you're looking for, please contact RWM Casters at 800-634-7704.
FIXED HAND TRUCKS
These hand trucks offer a 500 pound capacity with stress resistant frames and ergonomic design.
These light weight trucks are available in a wide variety of configurations.
BUILD FIXED TRUCK
CONVERTIBLE HAND TRUCKS
These hand trucks feature an easy 2-step process to convert the hand truck into a platform truck. The strong, light-weight frames offer durability and long service life.
These trucks can support 500 pounds in the hand truck position, and 1,000 pounds as a platform truck.
BUILD A
CONVERTIBLE HAND TRUCKS
Uses for Hand Trucks
Also known as a two-wheeler, stack truck, trundle, box cart, or dolly, hand trucks come in numerous styles and configurations. This makes them highly versatile pieces of equipment for commercial and industrial applications. Some of the most common uses for hand trucks include:
Transporting goods around shipping docks
Moving kegs or bags of ingredients around breweries
Delivering food and beverages
Helping travelers with luggage at airports and hotels
Carrying belongings down the stairs and out to a moving truck
Relocating merchandise in a warehouse
Transporting large appliances or equipment
Benefits of Hand Trucks
As one of the most useful tools for making your staff's life easier, you should have at least a few hand trucks in your facility. This simple piece of equipment isn't mechanized or high-tech, making it an affordable upgrade on any budget, but you may find that it's the most valuable addition to your business this year. Here's why:
Increased productivity: It's no mystery that transporting heavy objects can cause exhaustion. Remove some of the burden from your workforce, and more will get done in less time every day.
Reduced injuries: Even more important than productivity is the safety of your staff. Hand trucks make typical back-breaking labor a breeze, keeping your team healthy and happy.
Versatility: The chance to design a custom hand truck gives you limitless possibilities for increasing productivity and reducing injuries on the job, no matter what industry you work in.
Ruggedness and reliability: Hand trucks are built to last, so a one-time investment will continue to benefit your business for years to come.
How to Build a Hand Truck
Our step-by-step builder lets you easily customize all the options you need:
Frames: Start the build-a-hand truck process by picking either a fixed frame or convertible frame. Then, customize this component to suit your requirements.
Handles: Fixed frames come with the option to select a handle design, from dual grips to single loops to dual loops and more.
Nose plates: This component mounts to the front of the frame and supports the cargo. Choose from different widths, depths, and materials.
Wheels: Whether you're looking for shock-absorbent, easy-rolling, or general-purpose wheels, you can find them at RWM.
Stair glides: Optional stair glides make it easier to transport goods up and down stairs.
Nose extensions: An optional 20- or 30-inch nose extension for your hand truck makes it possible to carry larger cargo with ease.
Frame extensions: Ranging from 44 inches to 65 inches, frame extensions for fixed-frame hand trucks help accommodate taller loads.
Brakes: Side wheel brakes (WB) and field-installable face contact brakes (ICWB) are optional add-ons with convertible hand trucks.
Accessory bags: Small and large accessory bags for fixed hand trucks make it easy to transport clipboards, scanners, tools, vending and cleaning supplies, and more.
Build your custom hand truck today! For answers to your remaining questions, or to place your order over the phone, please contact RWM Casters at 800-634-7704.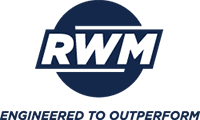 Featured Products

HC6-CA2-FN2
Small convertible hand truck with a solid aluminum deck, 10" full pneumatic wheels and a cast aluminum nose plate that is 18" wide by 7.5" deep.
Contact Us
1225 Isley Road
Gastonia, NC 28053
customerservice@rwmcasters.com
Phone: 800-634-7704
Fax: 704-868-4205
ONLINE CONTACT FORM
Distributor or OEM Customer?
Click here to visit www.rwmcasters.com